My sister-in-law and brother-in-law gave me a Lodge #10 oven for Christmas last year and I pulled it out today and cooked with it the first time.

I know it's not really bbq, but it still involves slow cooking, fire and it is definitely challenging.

For the maiden voyage I cooked a recipe known as Mountain Man Breakfast consisting of the following:

-brown a half pound of bacon and cut into small pieces
-add one half diced onion
-once bacon is brown and onion cooked remove onion and bacon
-add 32 ounces of hashbrowns (I used a frozen package or Ore Ida)
-once hashbrowns are browned, return bacon and onion back to oven
-add 12 eggs scrambled and cook until eggs begin to firm up
-add one half pound of shredded cheddar cheese
-just before serving and as cheese melts, add salsa to taste

I will post some pictures of the results later.
It's no surprise to me that barbecue has been the topic of several popular songs over the years. Most recently my favorite is by Charlie Daniels, "Little Joe and Big Bill", a song about a Texas dance hall and barbecue emporium. I don't know whether the place really exists, but if it does it sounds like just the place I would enjoy going. The song was never a mainstream hit, but it's been a big hit with diehard fans of the Red Neck Fiddlin' Man.

"Little Joe and Big Bill"

They got a dance floor the size of Texas
They got a band seven nights a week
And if you don't show up before the sun goes down
You ain't gonna find a seat
They got some grown up Texas ladies
That's made their papas proud
They like their music country
And they like their country loud
Well, every Saturday night before they turn down the lights
And the band stars pickin' hot
They start dancin' on the tables
Dancin' on the ceilin', dancin' in the parking lot
You start fellin' it flow from your head to your toe
And you sure are glad you come
Down to Little Joe and Big Bill's
Dance hall and sugar hill bar-b-q emporium

When it comes to southern cookin'
They know what it's all about
They got some bar-b-q ribs and red beans and rice
Make you tongue snap your eyeballs out
And you don't wanna 'cause no trouble
Buddy 'less you're willin' to die
'Cause Big Bill will stomp a mud hole in you
And Little Joe will walk you dry
Well there's a cowboy's dream in tight blue jeans
Swingin' through the swingin' doors
And there's a long tall cutie scootin booty
Out there on the floor
Well I guess it's time to get in line
'Cause they house is startin' to hum
Down at Little Joe and Big Bill's
Dance hall and sugar hill bar-b-q emporium

Well every Saturday night when they turn up the lights
When it's just about time to close
The fiddlin' man takes the bow in his hand
And start rockin' San Antonia Rose
When you're walkin' out
There ain't no doubt that you sure had a whole lot of fun
Down at Little Joe and Big Bill's
Dance hall and sugar hill bar-b-q emporium
Down to Little Joe and Big Bill's
Dance hall and sugar hill bar-b-q emporium


I attended a concert this past summer in Dearborn, MI and was awed by the talent and longeivity of the man. Ever the entertainer, Charlie Daniels gave the audience all they wanted and more.

Here are a few other songs about barbecue that I could find via a quick internet search:

"Riffin' At The Bar-B-Q"
"Struttin' with some barbeque"
"I Love Bar-B-Q"
"Barbequed Ribs"
"Bar-B-Q Sauce"
"Bar-B-Q"
"Barbecue Any Old Time"
"Neck Bones & Hot Sauce"
"Beale Street Bar-B-Q"

I'm on a mission to add these songs about my favorite past time to my CD collection. If you know of other "barbecue" songs and want to share them, please post a reply.

Buy Charlie Daniels Music
I haven't yet tried this recipe myself, but I have watched Alton Brown on Food Network do it a few times. I've never brined a pork butt, but I think I'm going to try it sometime. The rub sounds tasty too. Although, I've never put coriander or fennel in my own rubs.

This is the recipe he used when he showed how to cook a pork butt in a flower pot using an electric hot plate.


Alton Brown Pork Butt Recipe

Brine:
8 ounces or 3/4 cup molasses
12 ounces pickling salt
2 quarts bottled water
6 to 8 pound Boston butt

Rub:
1 teaspoon whole cumin seed
1 teaspoon whole fennel seed
1 teaspoon whole coriander
1 tablespoon chili powder
1 tablespoon onion powder
1 tablespoon paprika

Combine molasses, pickling salt, and water in 6 quart Lexan. Add Boston butt making sure it is completely submerged in brine, cover, and let sit in refrigerator for a minimum of 8 hours. 12 hours is ideal.

Place cumin seed, fennel seed, and coriander in food grinder and grind fine. Transfer to a small mixing bowl and stir in chili powder, onion powder, and paprika.

Remove Boston butt from brine and pat dry. Sift the rub evenly over the shoulder and then pat onto the meat making sure as much of the rub as possible adheres. More rub will adhere to the meat if you are wearing latex gloves during the application.

Preheat smoker to 210 degrees F. Place butt in smoker and cook for 10 to12 hours, maintaining a temperature of 210 degrees F. Begin checking meat for doneness after 10 hours of cooking time. Use fork to check for doneness. Meat is done when it falls apart easily when pulling with a fork. Once done, remove from smoker and set aside to rest for at least 1 hour. Pull meat apart with 2 forks and serve as sandwich with coleslaw and dressing as desired.

Food Network
We just finished unloading the trailer from the cook-off this weekend in Carmel, IN. We drove straight home after the awards and made it home by about 11:30 p.m. Saturday. The drive was uneventful and the weather and road conditions on I-69 were good.

The drive was a lot easier after we learned of our first place pacing in brisket and fourth place overall.

Linda and I both met some nice people from Carmel. The town was clean and the atmosphere was great. People were real friendly. It's a nice place.
Chicken
Rib Runners
Bar B Quau
Ulcer Acres BBQ
ZZ Que
Dr Chuckies

Ribs
Bar B Quau
Rib Runners
Squealers Award Winning
Ulcer Acres BBQ
Rubmasters

Pork
Ulcer Acres
Joey Macs Smoke Stax
Jimmys Hog Pen
Smokin Ts
TheBBQGuy.com

Brisket
TheBBQGuy.com
Memphis in Mundelein
Joey Macs Smoke Stax
Rib Runners
Bar B Quau

Anything Butt
Pepperitaville

Grand
Rib Runners

Reserve
Bar B Quau



Bodacious Blues BBQ
Doug Worgul, a writer for the Kansas City Star newspaper, has been writing a bbq novel on his blog about bbq. Check it out: Smoke Meat
I've been putting off telling this story. I guess I've been hoping that I would somehow awaken, from what to me is a bad dream, and it wouldn't have really happened.

On the way to the Winchester High on the Hog cook-off in Winchester, TN we stopped overnight in Florence, KY and spent the night at a motel. We really wanted to stay at the newly built Best Western, but it was late at night and there was no parking available for our bbq trailer, so we had to settle for an old run-down motel across the street.

Somehow overnight, a not-so-nice person decided to take a stick or other object and put a scratch down the entire side of our brand new 16 ft Doolittle tandem axle trailer, that hadn't even been used yet.

It never ceases to amaze me how mean and hateful some people can be. Senseless vandalism of someone's property is unforgiveable. It has never in my 37 years occurred to me that vandalizing someone's property is an acceptable activity.

I just don't understand some people. Maybe I'm just getting cynical.
Here are few of the pictures taken at the Winchester High on the Hog BBQ Cook-off this past weekend sanctioned by the Kansas City Barbecue Society. We lucky to have a lot of family and friends at the event. We would like to thank everyone who stopped by to visit.




The BBQ Guy and Petti





Petti and Linda, The BBQ Gal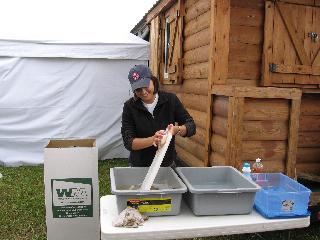 The BBQ Guy's sister, Amanda





The BBQ Guy and mother, Mary


Be sure to visit TheBBQGuy.com to see more pictures.
We've just finished going through the checklist for the cook-off this weekend. We'll be leaving tomorrow afternoon and arriving to the contest venue in Winchester on Thursday evening.

If you're nearby, stop by and say hello.

We'll have some of our new rub for sale.
Winter is over, but I ran across this picture today. It was about 19 degrees when this picture was taken. If you look closely you'll notice the temp on the gauage was 230 degrees, which demonstrates the advantages of insulated smoker design. I would hate to think about attempting to cook bbq with an offset in this kind of cold weather.